Elephant's Rocket Orange : Spot color ink cartridge for MD printers
date last modified -
Updated on 2018/6/17: Edit [How to use] : About 600 dpi printing, Special Color White (MDC-SCWH), VPhoto Primer/MF ink (MDC-PREP), Metallic colors (MDC-METG, MDC-METS, MDC-METR, MLC-SMTR, MDC-METB, MLC-SMTB), Opaque White/Based White (MDC-OPWH), Cyan (MDC-FLCC) and Magenta (MDC-FLCM) as the bar-code for re-labeling. This printing way is not only for Orange but also all of Elephant's Rocket spot color inks.

[Feature]
1. Standard orange color. Mandarin color / Tangerine color. Magenta 58%, Yellow 96%. Transparent pigment ink same as ALPS Cyan Magenta and Yellow ink. Color stability is very high.

2. Overprinting: You can overprint this Elephant's Rocket Orange on the ALPS Cyan Magenta and Yellow inks not only overprinting on the Special color white MDC-SCWH.
You can also overprint this Elephant's Rocket Orange on the each ALPS metallic color inks
Cyan + Orange = Dark military green, Dark army green, Dark gray green.
Magenta + Orange = Wine red, Deep red.
Yellow + Orange = Golden Orange, Yellow Orange.
Metallic Gold + Orange = Metallic dark Orange.
Metallic Silver + Orange = Metallic Orange.
Metallic Red(Magenta) + Orange = Metallic Red.
Metallic Blue(Cyan) + Orange = Metallic dark brown, Metallic dark military brown.

You can overprint around 90% of this Elephant's Rocket Orange on the same Elephant's Rocket Orange at 1200 dpi printing.

3. Printing performance: Very good printing quality on the water slide clear decal sheet, normal laser paper, PVC film, and other films.
Very good printing quality on the water slide decal paper, normal laser paper, PVC film, and other films.
Very good printing quality on the following Elephant's Rocket Water Slide decal papers that is most popular sand dust free decal paper.
Elephant's Rocket Water Slide Decal Paper (Semi-Gloss) Z-CDCA4
Elephant's Rocket Water Slide Decal Paper (Gloss) Z-GCDA4
Elephant's Rocket Water Slide Decal Paper (Semi-Gloss White) Z-WDCA4

Very good printing quality on the white ink MDC-SCWH as white base printing.

4. Clean Manufacturing environment: Dust free and sand dust free at production line and assembly line. Elephant's Rocket ink cartridges and decal papers are very reliable product that will not damage the printing head of your MD printers.

5. Earth-friendly efforts: We have started this support of ALPS MD printers as earth-friendly ecology activity in 2010 in Japan.
In this Elephant's Rocket spot color ink cartridge, we produce them by reusing black ink cartridges.
We reject deteriorated cartridges and we use only reliable cartridge after cleaning and inspections.

We have been developed Elephant's Rocket spot color ink cartridges in conjunction with a lot of modelers and decal producers in Japan. And these inks have received high evaluation with them.

You can use them for plastic model decal of car, truck, train, airplane, helicopter, ship, boat, rocket, tank, armored car, submarine boat, gun, bike and house.


[How to use]
1. Elephant's Rocket spot color ink cartridges can be used at all of ALPS MD printers.
Printing configuration is following 2 or 3.

2. Bar-code of this Elephant's Rocket spot color ink Orange is No.0 that is same as Black ink(MDC-FLCK, MDC-FLK3). So, MD printers recognize the Orange ink as Black ink.
You can print it clearly by 1200 dpi printing.
However you cannot print the orange ink on the decal paper sharp and clearly at 600 dpi and 2400 dpi Black printing. You must use 1200 dpi printing as follows, and you can print sharp and clearly.

At the printing property;
Document Type: Grayscale
Media type: Laser Paper
Check 'Print On Backside'. You must stop the paper curl reforming process by checking 'print on Backside'.
Print Settings
Print Mode: Standard Color
More Settings...-->Print Quality
Resolution: 1200 dpi

You can overprint around 90% of this Elephant's Rocket Orange on the same Elephant's Rocket Orange at 1200 dpi printing.

Please note that [Paper Source (Automatic Feed or Manual Feed)] should be the same as the printing of other ink, or the paper will be come out once. You can manually select it at Paper tab.

You should stop curl reforming process at decal printing.
Just check 'Print On Backside' at printing property. You can skip the paper curl reforming process by check it. If you select the paper 'Print On Backside' un-displayed, curl reforming process is stopped automatically.

3. You can print this Elephant's Rocket spot color ink clearly at 600 dpi by re-labeling bar-code to following ink cartridges.

Re-label bar-code to Special Color White (MDC-SCWH), you can print the orange ink as Special Color White on the decal paper clearly at 600 dpi.
Please note that peeled off bar-code label from used ink cartridges should be attached firmly using double faced adhesive tape.

Re-label bar-code to VPhoto Primer/MF ink (MDC-PREP), you can print the orange ink as VPhoto Primer/MF ink on the decal paper clearly at 600 dpi.

Re-label bar-code to Metallic color, such as Metallic Gold (MDC-METG), Metallic Silver (MDC-METS), Metallic Red (MDC-METR, MLC-SMTR) and Metallic Blue (MDC-METB, MLC-SMTB), you can print the orange ink as each Metallic ink on the decal paper clearly at 600 dpi.
However, in case metallic color, overlapping of ink ribbon at each line is slightly larger than other inks. So, in some of your decal design, overlapping area may be looked thin dark color line.

Re-label bar-code to Opaque White/Based White (MDC-OPWH), you can print the orange ink as Opaque White/Based White on the decal paper clearly at 600 dpi.

Re-label bar-code to Cyan (MDC-FLCC) or Magenta (MDC-FLCM), you can print the orange ink as Cyan (MDC-FLCC) or Magenta (MDC-FLCM)on the decal paper almost clearly at 600 dpi. Around 98% clearly at Cyan and 96% clearly at Magenta.

4. In case overprinting on ALPS ink such as Cyan MDC-FLCC, Magenta MDC-FLCM and Yellow MDC-FLCY, Elephant's Rocket Spot color ink should be printed on those other inks.
For example:
Cyan + Orange --> Good
Orange + Cyan --> Not Good

5. Same as original Alps inks, there is no problem with clear lacquer finish, water-base clear and urethane coating.


##Elephant's Rocket Spot Color Ink##
Orange ZK-MDC-ORMR [JPY2,000]
Orange 3 cartridges ZK-MDC-ORM3 [JPY5,000] (JPY1,667/ea)

Price of ALPS MD printers, ink cartridges, decal papers, sheets and fittings.

Please contact us by email to place an order.
If you need repairing of your printer, please let us know.
[Contact Us]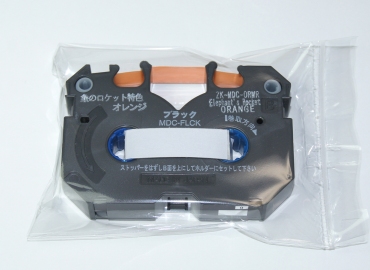 Elephant's Rocket Orange : Spot color for MD printers
Earth-friendly ecology activity.
In this Elephant's Rocket spot color ink cartridge, we produce them by reusing black ink cartridges.
We use only reliable cartridge after cleaning and inspections.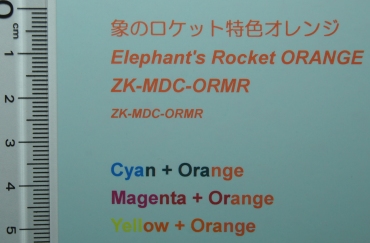 Printing on the Elephant's Rocket Water Slide Decal Paper.
Special Color White MDC-SCWH --> Cyan MDC-FLCC, Magenta MDC-FLCM and Yellow MDC-FLCY --> Elephant's Rocket Orange ZK-MDC-ORMR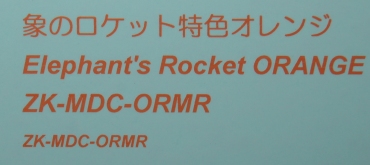 Closeup photo of Orange part.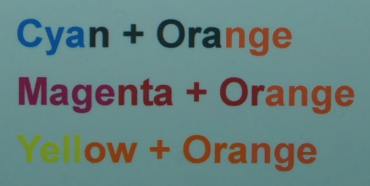 Closeup photo of Overprinting part.
Cyan + Orange: n + Ora
Magenta + Orange: nta + Or
Yellow + Orange: ow + Ora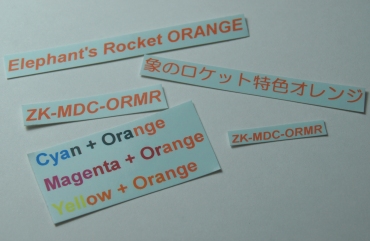 Let's put them on! Cut printing part out with scissors or knife.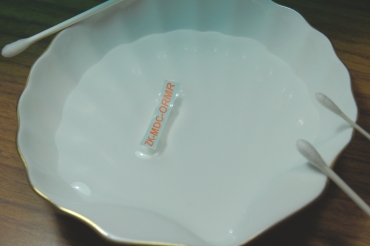 Put it on the water (5 sec - 10 sec). Take off and wait for a while (10 sec - 30 sec), film part will be move on the base sheet. You should not put it on the water long time for best results.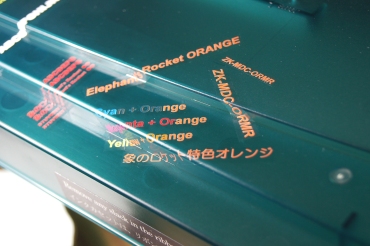 Slide them on the plastic chassis of Alps MD-5000i. Hold one side with finger or wet cotton swab and slide the base sheet out.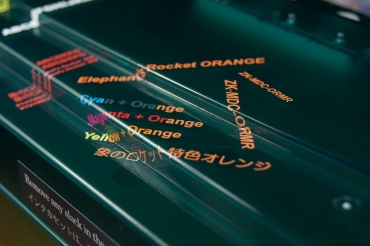 Spray clear lacquer finish one time. Printing films are firmly fixed and the films are faded into the background.
Same as original Alps inks, there is no problem with clear lacquer finish, water-base clear and urethane coating.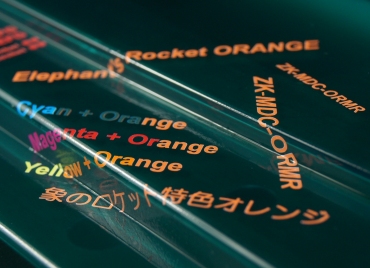 Closeup photo.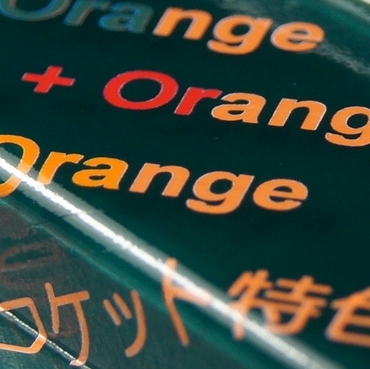 More closeup photo.

We will expand the variations of Elephant's Rocket spot color ink accommodating MD users request.
If you want us to develop new color spot ink, please let us know following information.
1. Color information. Accurate color information, such as DIC color code is better.
2. The reason of that color, such as where it is used.

Let's expand colors together!
(Elephant's Rocket Inc. Engineering center)